The health and safety of our students, faculty, staff and the community continues to be our top priority. All of our decisions related to recruiting events will continue to be guided by the directives from the State of Illinois and advice of our local public health officials.
The Grainger College of Engineering at the University of Illinois Urbana-Champaign is home to some of the world's brightest young minds and future leaders in technology. Engineering Career Services (ECS) is your gateway to these talented students by providing meaningful opportunities to connect. Ready to find your next star team member? Check out these high-impact recruiting opportunities and resources!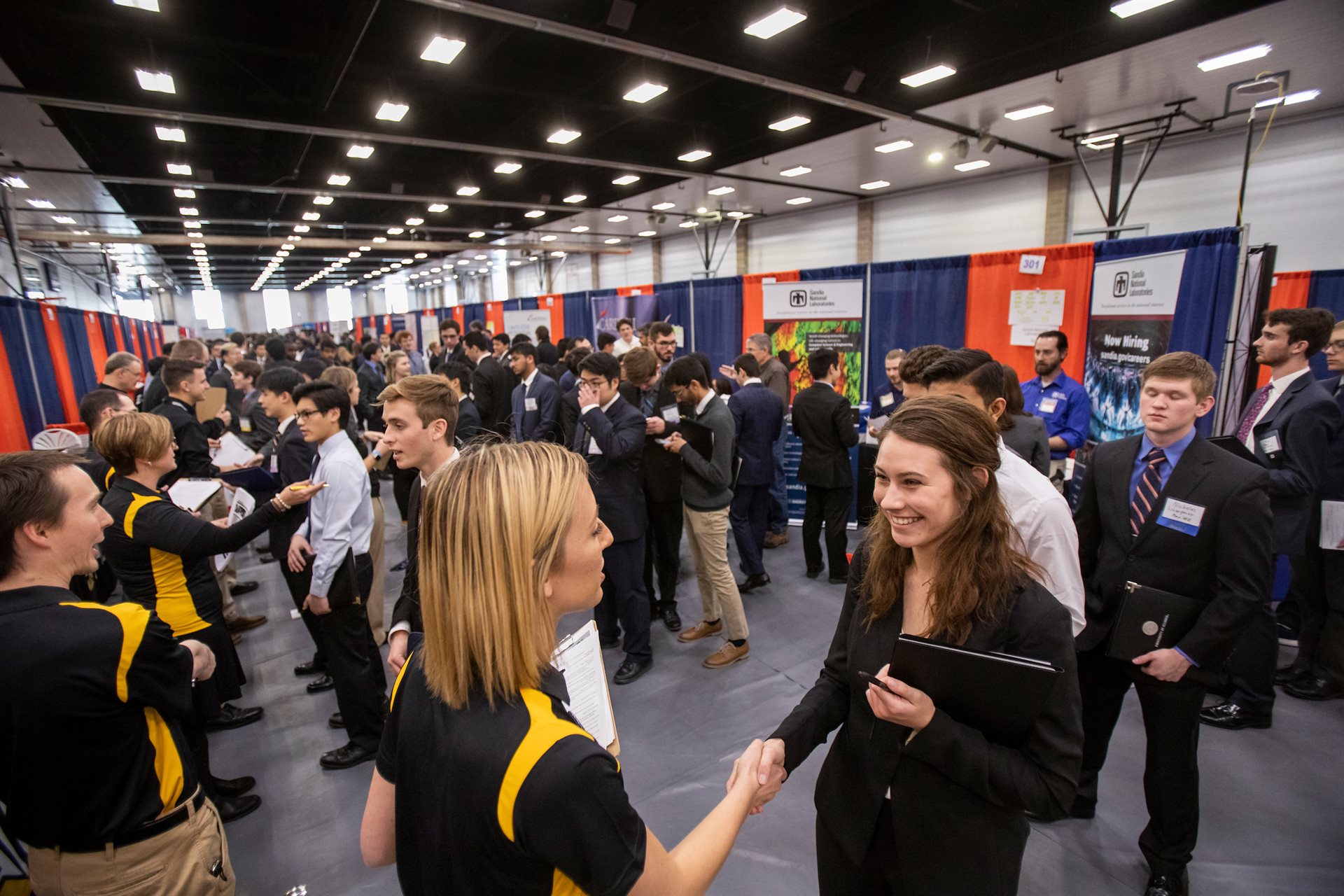 Engagement Opportunities
Participate in the two largest Grainger Engineering recruiting events on campus and meet thousands of candidates to meet your hiring needs. The fall career fair, held in early September, boasts over 7,000 student participants and over 400 companies. The spring career fair, held in February, is a smaller event with up to 3,500 student participants. Learn more about upcoming career fairs.
Interviews may be in person (on campus) or virtual. Request on-campus interview space through Handshake.
Each year, Grainger Engineering helps coordinate over 6,000 interviews on campus. Conveniently located in the Digital Computer Lab, complimentary interview rooms all include whiteboards. Additionally, space is available for students to participate in virtual meetings.
Handshake @ Illinois is The Grainger College of Engineering's centralized career services management system that allows employers to post full-time, part-time and internship/co-op opportunities online. Through this database, you'll also receive important messages/announcements from our office about registering for career fairs, requesting interview rooms, and other employer campus engagement activities. There is no cost to register for a Handshake @ Illinois account.
Please consult Handshake's employer help center to create an account and post jobs.
Students appreciate the opportunity to hear from engineers about industry trends, new technology, or other ways engineering is helping to address global challenges. In addition to branding the organization, you can showcase the career opportunities available and identify interested, high-potential candidates for open positions.
ECS is a small team of dedicated professionals responding to the needs of thousands of students and employers. We do not provide logistic support for on-campus info sessions/events. Please refer to the Guide to On-Campus Events to plan accordingly.
It's recommended that you partner with student organizations and engineering department representatives to host information sessions if you'd like to host an info session in a campus building. However, there are also many great campustown restaurants that offer the ability to host events.
Be sure to announce your event on the Handshake platform so that the maximum number of students are aware of the event!